Hi!
Please visit my profile.
Or you can see my links in flavors.me
There are my anime/manga list (myanimelist), asian drama/movie list (mydramalist), and fandom list (listography).
If we have the same interests/fandoms please feel free to add me!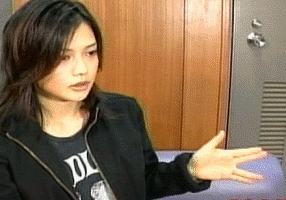 DISCLAIMER: GIF is not mine
Listening to Oujisama (warai) series - Oujisama to Niwa no Himegimi.
I think I heard "Siegfried" and "Reinhard"….
Isn't that the characters of Ginga Eiyuu Densetsu (Legend of the Galactic Heroes) ?
LOL.
I've been trying to get these routes:
-Twin good end
-Twin bad end
-Arles good end
-Arles bad end
-Guilan good end
-Guilan bad end
-Wolves true end
-Julian true end
Failed each time……… orz
Current Mood:

pessimistic
Note: LJ's been weird. I'm having trouble formatting my text. I don't know what to do, and I'm even forced to split this into two entries.
(
99 Questions
Collapse
)

賀東招二先生の「フル・メタル・パニック!」です。


私が小学生の時FMPのアニメはインドネシアのテレビに放送されました。
ファンになりました。
シーズン2はここに放送されなかったからDVDを買いました。
まだ続きがあるって事知ってライトノベルを読みたくなった。


読んでみて、遅いですが楽しいです。
知らない漢字があったらオンライン辞書と辞書ソフトウェアーで調べます。
ふりがながなくて知らない漢字は結構たくさんありますからよく部首で調べます。
一つ一つの漢字の意味を調べるのが楽しいと思います。


早く読んで終りたい。
宗介はかなめを救えるのかな。

オンラインショップで買ったライトノベルを読んでいます。

I'm really anxious.
I'm going to live alone in another town.
Well, not exactly alone. My grandmother, aunts, uncle, and cousins live in the same town.
Still, life is changing.
I just have to focus to reach my goal.
I'm going to be a university student starting this September.
Current Mood:

anxious
But Shuuta is such a sweet guy XD
On his blog entry he wrote about Uno-chan's upcoming stage play.
In the end he wrote, "Today's blog entry is all about Noouu?
(Noouu is Uno-chan. New nickname?)
Aah, it's okay, isn't it?"
He's so sweet.
Unlike the guy who didn't mention about Shuuta's and Hidaka's birthday in his blog post. *cough cough* Just kidding. I still love that guy anyway :)
Uno-chan thanked Shuuta
for the blog post via twitter!
Sorry.